This was a travel company package we contracted through a Romanian agency, so unlike our city tours and experiences you find on the blog, this is more of a resort review and 10 things to do and see while in Crete.
Greece is a beloved destination for Romanian people and our first time together in Greece had to be just relaxation and blue waters. I had some ideas about what I wanted to see. My ideas looked like this>
So in June we packed and traveled to Heraklion airport (with its spectacular landing) for a week at a beach resort 38 km from the city. Isolated and mimicking a coastal town, in steps of white, I was captivated from the entrance by Fodele.
June is perfect for Greece I think, less crowds, fewer infernal days, and perfect water. All the greenery on the many terraces, walls, and street is in full bloom and contrast perfectly with the architecture.
 Vacation in Heraklion Crete
Fodele Beach & Water Park Holiday Resort Review
The 4 star resort was amazing, as promised by the 4.5 stars Google reviews and 8.8 Booking score, with a beach rated at 9. And it was close, just down some steps, well, maybe more for us closer to the beach than for the people higher on the rows of villas,
but I guess they had the view so…
Some of the reviews say>
"It's great that it's spread in separate apartments. Beautiful views, fantastic food and amazing water park. We loved it."

"The location, staff and food are amazing here. The beach is absolutely stunning too. If I was going to criticise it in any way it would be that I don't think our room was 5 star but from the pictures on the website other rooms look of a better quality. There isn't enough loungers by the pool area but apart from those 2 things our holiday was very enjoyable. The staff are what make this holiday especially giorgios, ioana and the lady who greets you for dinner but the list is endless for friendly and helpful staff."
The comment about the rooms not exactly being 4 stars is right. But the resort also has a few private apartments and even a villa with its own pool. Balinese beach beds, a volley court, and a team of entertainers daily making you smile and move…what more can you want?
Fodele even has a mascot, a cute dog named Frankie you can find a statue of in the lobby. His name is also in the beach bar and you can find other references to him in some corners if you look it.
By the beautiful pool there's also an amphitheater for the night shows, a wellness and fitness center is inside and up above the rows of villas, Fodele has its own waterpark.
There was a train going up and down every 7 minutes, so the upper apartments weren't disadvantaged by the distance to the beach either.
You can spend a few hours going up and down the mini streets and it will feel like Santorini. The colors of the resort are the same as you would expect from Greece and the staff was amazing, as you would expect from a nation dedicating its life to tourism.
The resort has an app, and you can make reservations to the restaurants, see the day activities schedule and get info on the island and main objectives. There's also a car rental facility inside the resort, with prices from 45 euro/day/car.
the private sandy beach is clean, spacious and with calm, warm and clear water. There are rocks in the water, so water shoes are necessary.
there's a beach bar very close, so the dose of hydration is always close.
there are volleyball competitions and stretching and yoga classes daily.
there are three restaurants and aside from the main one serving the 3 daily meals, you can choose between one a la carte restaurant and one traditional greek cuisine one.
the food is hands down up there with the best experiences I ever had. Prepared in front of you, fresh, diversified, and tasty, it's perfect for any taste.
a special note to the DESERTS – one of the highlights of my stay there. I fell in love with all the greek sweets, as prepared by the staff of Fodele.
the all-inclusive experience is great, aside maybe from little hiccups like needing to ask for water for the room when they forgot to leave some.
there is an amphitheater and special programs almost every night.
the staff is extremely friendly and willing to help and they like to greet you in their own language. I mention this because in Croatia the staff will always start the conversations in English. But this is the reason why I now know words like:  kalimera and kalispera (good day and good nigh), Efcharisto (thank you), Parakalo (please and you're welcome), kalimera olimera, a special greeting meaning good morning all morning.
General impressions and advice after our experience in Crete:
Try to get a hotel near driving distance to the main city (Chania or Heraklion) so you'll have a day to wander the coast. If you want to see the whole of Crete reserve 3 days just for driving. Once up to Chania, one down to Heraklion and the other coastal town, and 1 for the other side of the island and some great beaches like Matala.
Greek people speak English, but they appreciate you trying to speak their language too. Also, most of the time they are happy and relaxed, even on the roads.
The public services were excellent and there was little need to ask anything when we visited.
Be polite, always, just because it's a good way to be, not only because people appreciate it.
It's ok if you forget to get gifts for back home, as the airport has a few traditional stores with the same prices as in town.
Expect to spend less money for the trip here if you chose an all-inclusive, but have money ready for the optional excursions and the day trip(s) with the rented car, things we recommend you do, as it's the only way to get to some beaches and towns.
Expect to find all the instagramable places you saw, but also get ready to see more stones than sand on beaches and lots and lots of brown rocks.
Don't have many expectations for pictures with an empty background, as it is one of the most touristy places.
The backstreets are the best finds here too, as is the case in any big or small city. I love to get lost on back small streets and see funny, weird or interesting things, like small statues, clothes on lines to dry or secret cafes.
Food and drinks cost up to 30 euros and aren't always the best experiences if you chose to have them near busy places. But all in all, the food is ok and can get you an afternoon until you get back to your all-inclusive resort.
Crete is not that expensive, and you can find gifts at about 10-12 euros, oil from 5-20 euros, soapts for as less as 1 euro, dresses for 15 and hats for 13. An entry to the Aquarium is 10 euros and a ski jet ride 45.
Give up on any diet while in Greece and enjoy the food or die for the sweets, like I did.
Prepare to eat a lot. Because swimming and the sea air make you hungry and also because (like me) you are a curious eater), you'll have to at least try the dishes from the sea or the land.
The local beers are Mamos and Pills so make sure to try them. And make sure to try a Kanelada, a local cocktail with a cinnamon tang.
10 other things you can visit – Vacation in Heraklion Crete
Knossos, called the oldest city in Europe, the largest Bronze Age archaeological site on Crete. The fresco paintings that still remain will mesmerize you.
Elounda-Spinalonga-Plaka a day boat trip for those who are curious about how the rich spend their summers. The fortress at Spinalonga was a leprousy colony and the filming location for the movie The island.
Aghios Nicolaos – a Venetian like coastal town with a central lake that is said to be the bathing place of goddesses Artemis and Athena. The stroll on the beautiful colorful streets is a pleasure.
4. Heraklion of course is on the do to trips once in Crete. Make sure to visit the Rocca a Mare fortress, walk the 25th August street to Bembo Fountain and take in the cute architecture reminding you of the venetian one. The Venetian Walls of Heraklion are reminders that the influences have a history here.
5. The CRETAquarium and the Dinosauria Park are outside of the city and make a good stop out of the sun. But be advised, there are no more sharks at the aquarium. Still a nice experience. Aquaworld Aquarium & Reptile Rescue Centre is another further from the city aquarium.
6. Malia is a nice little village where you'll find what you expect from Greece (flowers and stone walkways). It's worth an afternoon visit and even a day of fun, as its known for the nightlife and young people coming here. Sisi is the same, a beautiful coastal village dressed in flowers and sails. Hersonissos is an animated town perfect for vacation and filled with resorts. So is Chania, the other major city in Crete.
7. Lasithi and the nearby area are a great addition to your program, as you can explore one of the quintessential greek miths> the gods. Zeus's cave or Psychro cave are on the program as a day trip from the nearby city of Agios Nikolaos. The entrance is 6 Euro and be prepared to walk a lot of stairs.
8. Chrissi (Chrysi) island is a protected ecosystem because the place is also called the Golden Island or the Caribbeans of Greece. 200-300-year-old cedar forest covers 70% of the island and the colours of the waters are amazing.
9. Now that the appetite for beautiful beaches peaked, some other places you should check our are: Vai Beach, Balos Beach, Ammoudara Beach all on the same part of the island as Heraklion. And Elafonissi Beach, Kedrodasos Beach, Matala Beach and Kommos Beach on the other part of the island.
10. Relax. It's a place to go and learn another way to live. Slow, as in the approach of the tide, and relaxed, like the growing olives on the hills.
Take a welcomed vacation and go all-inclusive in Crete! Hope this review helps, let us know!
Safe travels,

The GALs, Catalina&Florin

"We're a couple in love with travel and research. We hope to give you some good tips from experience so that you can have the best of times."
Decide on a trip to Greece with these essentials:
Legal disclosure: *These links are affiliate links. If you buy a product through these links, we get a small share of the price (without the product being more expensive for you). It's up to you if you use them, thank you for reading!

More pics on 
PS: Near this Resort, there is a small town named Fodele and there you can find the birthplace of El Greco, the famous painter. Dominikos Theotokopoulos has a dedicated museum in the village, open Monday to Sunday 9-7.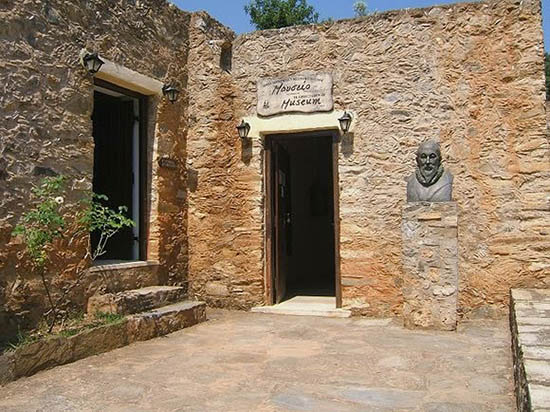 Resort Review and Vacation in Heraklion Crete